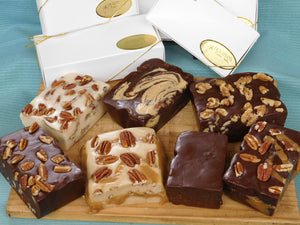 Sugar Free Fudge
Caramel Pecan: Chocolate fudge with roasted pecans and a creamy caramel center!
Original: Our absolute best seller. Something about a big old chunk of chocolate slowly melting in your mouth, brings out the big kid in all of us.
Pecan: Chocolate fudge with raw pecans mixed through out!
Walnut: Chocolate fudge mixed with walnuts throughout.
All of our products will be ready to ship within 2-3 days via USPS. Tracking is always provided after your order ships. 
We guarantee that you will be satisfied with your purchase. If for any reason you are not satisfied, please mail your shipment back to us within 10 days of receipt along with a letter stating your specific concern for a prompt refund or replacement.
Ship returns to:
Dutchman's Hidden Valley
3408 N US Hwy 281
Hamilton, Texas 76531