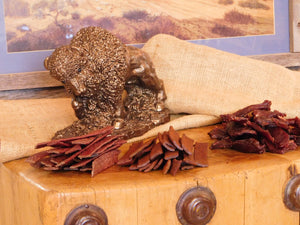 Bison Jerky
Regular price $28.00 Sale
Muscle Jerky is hand cut, cured and smoked for 3-4 days and dried with hickory chips.  Number of pieces in one-half pound packages will vary due to meat being hand cut.
Strip Jerky is 100% Bison.  Our Jerky is ground pressed and smoked with hickory chips and dried.  Strip jerky has an easier chew than the muscle jerky. This is made for those who prefer or need a tenderer "chaw" on the ole teefers.  Amount of jerky strips will vary per pound due to being hand pressed and cut.
All of our products will be ready to ship within 2-3 days via USPS. Tracking is always provided after your order ships. 
We guarantee that you will be satisfied with your purchase. If for any reason you are not satisfied, please mail your shipment back to us within 10 days of receipt along with a letter stating your specific concern for a prompt refund or replacement.
Ship returns to:
Dutchman's Hidden Valley
3408 N US Hwy 281
Hamilton, Texas 76531