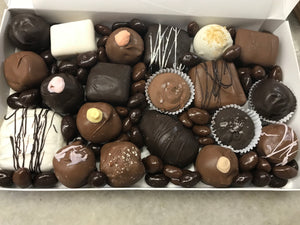 18 Piece Chocolate Box
Regular price $26.50 Sale
Amaretto, Key Lime(2 ) ,Raspberry (2), Orange (2), Maple,Strawberry, Pecan, Caramel Sea Salt Milk and Dark, Milk Fudge Meltaway, Milk and Dark Coconut BonBons,  Caramel Squares in Milk and Dark, and , and Chocolate Raisins.
Approximate weight 1 ⁄2 pounds.
Assortment may vary
All of our products will be ready to ship within 2-3 days via USPS. Tracking is always provided after your order ships. 
We guarantee that you will be satisfied with your purchase. If for any reason you are not satisfied, please mail your shipment back to us within 10 days of receipt along with a letter stating your specific concern for a prompt refund or replacement.
Ship returns to:
Dutchman's Hidden Valley
3408 N US Hwy 281
Hamilton, Texas 76531